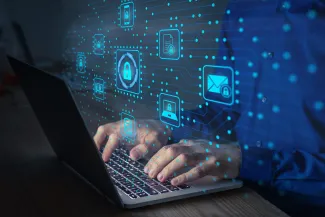 Introduction
In the technological era that we now live in, it is worth asking the question: what alternatives are there to serving court documents in hard copy? For instance, could proceedings be served by more unusual methods such as through blockchain or over social media?
In this article, we look at how this question may be answered both in Scotland, and in England and Wales, with reference to a few recent cases that give us an idea of the direction of travel.
Position in England and Wales
In England and Wales, service by email is well established under Civil Procedure Rules (CPR). Court documents can be validly served by "any other means of electronic communication'' [CPR r 6.3(1)(d)] , and this includes email, provided that the recipient has consented to accept service in this way and has given their email address [CPR Practice Direction 6A, para 4.1].
The recent 2022 High Court case of R (Tax Returned Limited and others) v The Commissioners for His Majesty's Revenue and Customs [2022] EWHC 2515 (Admin)] raises a potential hazard with serving proceedings in this way. Paragraph 4.1 of Practice Direction (PD) 6A states that a party must provide the "email address" to which a document must be sent for service to be effective. In this case, the Court held that as the receiving party had provided multiple email addresses, they had not complied with this requirement. The serving party therefore had to make a request for an application for alternative service, which the Court granted. This decision creates a potentially strange position in practice, and it remains to be seen whether subsequent courts will reach the same conclusion.
Serving proceedings by other means
The courts in England and Wales have also granted permission to serve proceedings by other means, including social media. In an unreported 2020 High Court case, solicitors for the claimant could not contact the defendant through letter or email. Instead, they were allowed to serve documents on him through his active Instagram page. As it is not possible to send files through Instagram messaging, they sent the documents via email and first-class post, in addition to sending notices via Instagram message and text to the defendant, and a follow up link to the documents after no response.
The recent judgments of D'Aloia v Persons Unknown [2022] EWHC 1723 (Ch) and Jones v Persons Unknown [2022] EWHC 2543 deal with an even more novel method of service. In these cases, the Court granted an order permitting service of proceedings through a non-fungible token (NFT) over blockchain.
In D'Aloia, the Claimant brought proceedings against "persons unknown" and alleged that he was a victim of fraud. He claimed he had been fraudulently persuaded to transfer his crypto assets (worth approximately $2.1million) to accounts held by the defendants. The defendants were, however, difficult to locate. Mr D'Aloia made an application to serve an interim freezing injunction and a Banker's Trust disclosure order out of the jurisdiction and also by alternative means, namely by email and NFT. In Jones the victim was subject to a bitcoin scam, where he transferred his own bitcoin to a fake investment platform that was a façade for monetary returns. He was then unable to access his crypto and the fraudsters ignored him along with the request against them to commence proceedings. The Court considered the previous judgment in D'Aloia, and made an order for the bitcoin to be returned to Mr Jones. Mr Jones asked the court to allow service of this order by way of an NFT.
The Court granted Mr D'Aloia permission to serve by email and NFT (which it described as a form of airdrop), as this would lead to a greater chance of success, and otherwise there would be "complexities" in relation to service and the claimant would be unable to start proceedings. The Court also granted Mr Jones permission to serve the order in his favour using an NFT airdrop into the relevant crypto wallet, on the basis that "no traditional means of service are likely to be effective in relation to the fraudsters." The Supreme Court of New York also allowed service by this method in LCX AG -v- John Does Nos. 1-25 in July 2022. This demonstrates that the English courts will be willing to take a modern approach to allowing service using new technologies, particularly if this will allow a claimant to start proceedings that would otherwise be blocked. They may only do so, however, once more traditional methods have been unsuccessful. Fraudsters involved in cryptoasset frauds can be extremely difficult to trace, perhaps with no easily accessible address, or they may live in remote parts of the world. In those scenarios, service by methods such as over the blockchain may be the only way actions can proceed. The judgments of the English and New York courts represent a positive outcome for those who have been victims of cryptocurrency fraud or claimants in other cases where service by such methods may be required. Claimants will still need to make an application for service by alternative means, and the courts will assess each case on its specific facts.
There could be potential issues with serving proceedings in this way, in particular issues around cyber-security. The courts will have to deal with these issues on a case-by-case basis.
The Position in Scotland
In Scotland, service by email is now possible as a result of the emergency coronavirus legislation, and the more permanent Coronavirus (Recovery and Reform) Act 2022. These provisions allow service by "transmitting … to a person electronically". As in England and Wales, the receiving party must agree to receive documents electronically.
Would the more unusual methods of service discussed above be allowed by the Scottish courts under these provisions? There has not yet been any case in Scotland like D'Aloia, Jones or LCX. However, the courts do not look favourably upon defendants who evade attempts for documents to be served on them and given The Scottish Civil Justice Council's Second Report on The New Civil Procedure Rules, which proposes that proceedings may be served: "with the consent of the person to be served or their representative, by e-mail, or by any other method ordered by the judge," Scottish courts are likely to have a similar attitude to the English courts so they may follow the same approach if the situation arises.
Summary
This is an area where the courts on both sides of the border are still developing their thinking, probably quicker than they would have otherwise given the Coronavirus pandemic and the ongoing move away from hard-copy documents and service by traditional post. As new technologies develop, so will the case law. Given the recent turbulence in the crypto sphere, we can also expect more applications like the cases discussed in this article in the next few years.
If you are interested in finding out more about this issue, please get in touch with Alec Fair, Senior Solicitor, in our Commercial Disputes team (Alec.Fair@shepwedd.com) or your usual Shepherd and Wedderburn contact.