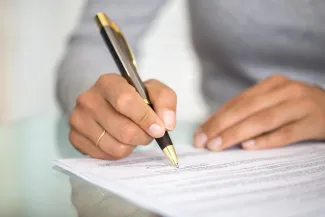 With the COVID-19 pandemic continuing to present challenges to everyday life, we have seen an increase in the use of electronic signatures for many documents that were once signed in wet ink.
While in many cases Scots law can accommodate electronic signatures, there are instances where wet ink signatures will still be required, at least until the requisite level of advanced or qualified electronic signature becomes readily available.
One such instance is the use of Scottish trusts in the context of securitisations and other capital markets transactions, where a Scottish trust is created over the Scottish assets within the portfolios being securitised. Where a funding structure features ongoing sales or top-ups to the underlying asset pool, this will create a requirement to enter into new Scottish trusts on a regular basis. This process is often undertaken by the participants themselves.
As we pass the anniversary of the first national lockdown and remote working for many in the sector looks set to continue for several months more, organisations involved in the practicalities of implementing further sales or asset pool top-ups will need to continue with their arrangements for ensuring that Scots law declarations of trust continue to be signed in wet ink.
If you are involved in such arrangements and are concerned with the approach that you are taking, or have questions about this or a related matter, please do not hesitate to contact Neil Cowan, James Bulpitt or your usual Shepherd and Wedderburn contact. For further information on electronic signing of finance documents in Scotland, please see our comprehensive guide here.