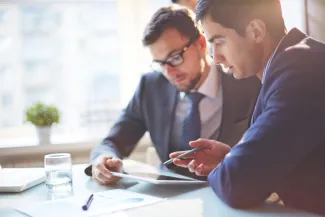 Parties to a contract can give the right to enforce an obligation in the contract to a third party. For example, they are very often used where a large business enters into a contract with a supplier and wants its group companies to be able to enforce the contract.
 
In England, this is governed by the Contracts (Rights of Third Parties) Act 1999. In Scotland, the legal recognition for this has been a common law principle, jus quaesitum tertio. The Scottish Law Commission recognised that there was a need for more certainty around third party rights in Scotland, and as a consequence the Scottish Parliament has passed the Contract (Third Party Rights) (Scotland) Act 2017. 
 
This Act is now in force, and means, among other things, that employers should be updating their settlement agreements and contracts of employment for Scottish employees so as not to inadvertently give rise to a third party right, while ensuring that appropriate third parties (for example, group companies of the employer) should have the ability to enforce agreements if necessary. 
Creation of third party rights
In order for a contract to be created in favour of a third party, there are two requirements:
The contract must contain an undertaking that one or more of the parties to it will do (or not do) something for the benefit of an identified third party; and
The contracting parties must intend that this right be enforceable by that third party. 
Although the third party must be identified, third party rights can be created in favour of companies which are not in existence when the contract is signed. 
Difference with English Act
For employers, one key point of difference with the position in England is that there, a third party does not have the right to enforce a term of an employment contract against the employee. This prevents companies in the employer's group from enforcing clauses against the employee such as confidentiality provisions or restrictive covenants, which may cause problems if the original employing entity is wound up. The Scottish Act has no such restriction, and so for individuals employed under a contract governed by Scots law, employers will be able to state that group companies may enforce relevant clauses in the employment contract. 
Next steps for employers
Especially for UK employers with staff based in Scotland, with other legal changes such as the General Data Protection Regulation and changes to the tax treatments of payments in lieu of notice also coming into force, it is an opportune time to review any style settlement agreements, contracts of employment, and service agreements to take advantage of the changes in relation to third party rights, and to ensure that new data protection and tax requirements are met. 
 
If you have any queries about appropriate wording, our employment team would be happy to advise.