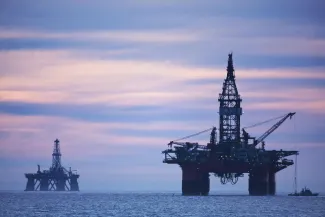 The oil and gas sector has seen significant changes over the past few years, led by a significant reduction in global oil prices. 
This has increased the focus on operational efficiency and more flexible ways of working collaboratively to alleviate the effects of protracted price deflation.
As oil prices recover, the industry has a significant opportunity to not only make good returns for shareholders, but also for reinvest in, and further develop, more stranded or difficult assets in order to maximise reserves. 
Maintaining the focus on efficiencies will equally depend on driving technological and digital innovation through initiatives such as the establishment of The Oil & Gas Technology Centre and others. 
More active collaborations between universities and industry will also require a sharper focus on activity and investment, beyond that which has existed to date.
The key to achieving this is avoiding supply shortages, in particular in expertise and labour, and many companies are now increasingly prioritising training and apprenticeships to counter not only the impact of an aging population of engineers, but also any potential migration-related shortages. 
At the same time, fiscal and economic policy will need to be more pro-development and pro-export. 
The UK's position as a mature basin, while perceived as a threat and a weakness, should also offer the opportunity to develop and export skills and technologies globally, particularly in the area of decommissioning.
Recent industry studies suggest the UK oil and gas sector and related industries are already benefiting from the government's flexible response to the fiscal environment, which has encouraged further investment and attracted global asset allocation to the UK Continental Shelf basin. 
Investment in infrastructure, such as the new Aberdeen South Harbour project, should also encourage further economic development by supporting the industry, decommissioning activity and the evolving offshore renewables sector.
In both the upstream and the midstream sectors, the emergence of new sources of capital and investment has created new opportunities to further develop and enhance existing and new assets and infrastructure, as well as driving even greater efficiencies. This creates a welcome boost for the supply chain, which has also responded by looking at new areas of diversification to bolster revenues, both locally and globally.
While it is true that the world will continue to need fossil fuels for the foreseeable future, and existing resources must be developed, the industry will also need to be conscious of the need to lead, and be seen to lead, in the areas of carbon capture and CO2 reduction through an increased focus on relevant technologies.
How are you preparing for the future? How can you benefit from the experiences of others? Join the conversation by clicking the banner below.