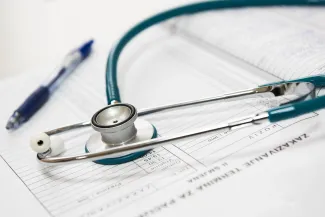 Official figures show health accounted for 17.5% of identifiable public spending in Scotland in 2017/18, and that share is growing structurally due to factors such as increased life expectancy, demographic changes and medical advances.  
The Scottish Government estimates that over the next 20 years, demography alone could increase expenditure on health and social care by over 70%. 
It is also estimated in that report, the number of people with multiple conditions and complex needs will also grow, for example the number of people with dementia is predicted to rise from 71,000 to 127,000 in that period. 
Given the importance and scale of the healthcare sector in the Scottish economy, issues such as workforce – the sector currently employs more than 200,000 people in Scotland, about 8% of the total workforce – as well as funding, commissioning and capacity, all need to be taken into account when considering the country's future. 
There are also implications for many policy areas, such as taxation, training, immigration and the roles of the public and private sectors.  
Healthcare is not purely a public sector issue, it's important that the private sector's role in investment and provision of healthcare is considered. At present, around 85% of Scotland's care homes are operated by the independent sector, and a recent study suggests that local authority procurement and operation of care home services can cost two-to-three times as much as private sector providers of comparable services.  
Funders have significant appetite to invest in Scotland but struggle to find opportunities.  The cost of provision of new-build care homes is not sustainable at the current level of local authority care fees, so care home investment is focused on homes for private-pay residents.  
Primary care development is now funded, developed and held through the government's public-private partnership (PPP) Hub schemes, despite investor demand from private sector funds.
Scotland's strengths:-
• Integration – e.g. the standardised National Care Home Contract, local authority fee rates are negotiated nationally by Scottish Care and COSLA, and are generally more favourable than English local authority fees.
• Autonomy – NHS Scotland and the care service and workforce regulators (the Care Inspectorate and Scottish Social Services Council) are independent.
• Workforce – although Scotland suffers from recruitment challenges, staff turnover is lower than in England – 22% per annum in independent care homes compared to 30% per annum in England. 
Weaknesses:– 
• Generally same as rest of UK – funding and associated structural risks; planning and commissioning; shortage of qualified staff; investment required in new buildings and technology; polarisation between private pay market and those reliant on state funding. 
Opportunities:-
• Freedom to make policy decisions separately from rUK – social justice, tax, procurement, planning and training.
• Better use of the private sector – e.g. longer-term planning would enable more external investment through greater certainty; local authorities could provide land rather than building and operating facilities themselves; and, permit more private investment in primary care.
• Implementation of best practices – integrated health and social care; greater use of domiciliary and community care; self-directed care and place-based care can reduce inappropriate use of hospitals and care homes, relieve pressure on NHS and lower costs and ultimately result in better outcomes for individuals. 
Threats:-
• Rising costs and demand and shrinking tax base means difficult funding decisions.
• Staff shortages could be exacerbated by Brexit or other immigration restrictions.
• Capacity is shrinking, development and investment is shifting towards the private market. 
Join the conversation via the link below.