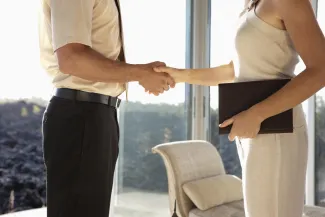 With investors such as the Scottish Investment Bank, the soon-to-be-launched Scottish National Investment Bank and the Epidarex Life Sciences Fund all increasingly paying attention to the life sciences sector against the backdrop of an increasingly competitive life sciences market in Scotland, now is a great time to consider whether your business is ready for investment, and how it could be standing out in order to attract investors.
Prepare for investment
The aim of the game is to build confidence with potential investors. Investors are buying into you as much as they are your business, and they will expect you to be prepared, confident your business will succeed, optimistic (yet still realistic) about future potential/performance, and true to your business's values.
The first step in the process is to make sure your paperwork is in order: your financials, business plan and projections, market research, and your pitch or investor slide deck. Unless it is a family and friends round, you may need to pitch your business and, quite possibly, will receive a number of rejections. When faced with rejection, try not to take it personally – refine and return to the investment trail with greater determination and a better understanding of what investors are looking for.
You should also scope the investment proposal:
What is it you are offering?
How much of your business are you prepared to 'give up'?
What will the investment help achieve and will further funds be required at a later date?
Are there any tax advantages for the investor?
As a life sciences business, your intellectual property will likely be one of your most important assets, and you need to be able to inform potential investors about the level of IP protection that you have in place or could, with their investment, obtain. With IP-focused businesses, potential investors will expect robust protections to be in place (whether in the form of patents, trademarks or non-disclosure arrangements).
Identify the right investors
View your investors as partners. Spend time identifying investors who are the right fit for you and your business. Do not focus solely on the valuation attributed to your company by the investor – you are likely to deliver a more successful business if your investor shares your ethos and is able to add value over and above simply cash. Consider the potential value to your business of 'patient capital' funds. These funds look to remain involved throughout the development of a business, and can therefore provide long-term stability to its management. Patient capital investors have been identified as having a significant part to play in helping life sciences companies grow sustainably, and are likely to become more involved in investing in the industry. The right patient capital investor could make a big difference to the long-term success of your business.
Negotiate the business handcuffs
Remember that investors rarely part with their money without conditions attached. It is important to negotiate these business handcuffs carefully in order to ensure your business is sufficiently empowered to grow and achieve its full potential. You want your investors to back you and to give you the support and freedom you need in order to deliver on your business plan.
Tap into your ecosystem
Entrepreneurs in Scotland are fortunate to be growing their business in a supportive ecosystem. Scotland is home to one of the largest 'clusters' of life sciences businesses and research centres in Europe, with over 700 organisations employing more than 37,000 people. Tap into this ecosystem. Talk to others. Learn from them. Coupled with the launch last year of the Life Sciences Strategy for Scotland '2025 Vision', which aims to grow the Scottish life sciences sector by £8 billion by 2025, the current economic environment is ideal for Scottish life sciences companies looking to attract investment.
When determining the readiness of your business for investment, the message is clear: Prepare; Identify; Negotiate; and Talk. And with this acronym – PINT – in our heads, we look forward to seeing you at future EIE showcases and other events around the country, and hearing more about the thriving businesses you are developing here in Scotland.
Upcoming events
November 2018 LIFE SCIENCES IN SCOTLAND: Moving Forward Together – To 2025 and Beyond
December 2018 BioFIT 2018
February 2019 Life Sciences Dinner and Annual Awards
March 2019 PULSE