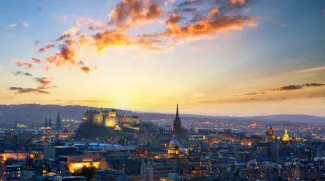 From 1 February 2018, the new Queensferry Crossing over the Forth now has motorway status. This means that the maximum speed limit has increased to 70mph and, as a result, agricultural vehicles can no longer make use of the new bridge. 
Initially it was proposed that tractors and other agricultural traffic would use the Kincardine Bridge to cross the Forth. However, after strong opposition from the National Farmers Union of Scotland and other bodies, this proposal was dropped to prevent extra travel time for farmers. Tractors and agricultural vehicles are now able to use the old Forth Road Bridge.
In order to promote safe passage and prevent delays, a number of rules and restrictions have been imposed on agricultural vehicles and those with abnormal loads. Those with such vehicles must be aware of these rules and restrictions prior to making a crossing to ensure compliance and prevent any unnecessary delays.
The term 'agricultural vehicles' includes any tractors, tractors towing loaded trailers and other agricultural vehicles which comply with the definition in the Road Vehicles (Construction and Use) Regulations 1986. This definition states that an agricultural vehicle is a motor vehicle which is constructed or adapted for use off roads for the purposes of agriculture, horticulture or forestry and which is primarily used for one or more of those purposes, not being a dual purpose vehicle. 
Vehicles falling within this definition are allowed to use the Forth Road Bridge without the prior consent of the roads authority, if they are not permitted to use the Queensferry Crossing. However, there are still requirements for advance notification.
Advance notification is required for vehicles wider than 2.9m and/or longer than 18.65m. To provide advance notification and gain permission to cross, the driver must contact the Forth Road Bridge Control Room prior to crossing. If the vehicle is more than 3.5m wide, the driver must contact the control room at least 24 hours in advance of crossing, and call again on arrival. An additional indemnity is required for vehicles and loads heavier than 44 tonnes and/or longer than 27.4m.
Additionally, any loads that could cause congestion are not permitted to cross during peak traffic hours or times where there are incidents, accidents or roadworks. These restrictions fall within the discretion of the Control Room staff. Finally, if the Forth Road Bridge is closed for any reason, drivers of agricultural vehicles must use the Kincardine or Clackmannanshire Bridges. To prevent any delays to journeys, drivers of agricultural vehicles should be aware of these new rules and restrictions and ensure that the appropriate notification is given in advance.
Article contributor:  Aileen Gordon, solicitor