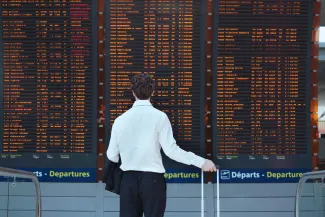 Moving to a new country can be a daunting prospect, particularly if you are also contemplating setting up your own business. Our International Families Group provides a central resource to help clients start a new life and establish a new business in the UK. In this article, Keir Willox, a corporate Partner in our Aberdeen office, discusses some of the most important aspects to consider.
1. Immigration status
You, and any family members relocating with you, must have the necessary visa and residence permits. You therefore need to plan ahead to ensure your immigration status allows you and any family relocating with you to enter and work in the UK. If you are employing staff, you will also need to verify that they too have the requisite immigration status to be eligible to work in the UK.
We can assist with all your visa requirements to make sure that you, your family and any staff you employ are lawfully entitled to live and work in the UK.
2. Choosing your business structure
There are many different structures through which you can operate a business in the UK, such as a:
private limited company;
general partnership;
limited liability partnership;
sole trader; or
social enterprise.
You need to choose the structure that best suits your business needs. In conjunction with your accountants, our team can assist you in making the best decisions for your business. We can also assist with the incorporation of your chosen legal entity, whether that is a company, a limited partnership or limited liability partnership.
It would also be prudent to research your market and prepare a business plan. This will usually be required if you are seeking third party finance for your business. A business plan should be flexible; it is a tool that allows you to determine what you might need to do to give your business the best opportunity to succeed.
You should also be aware that, depending on the nature of your business, specific permits or licences from local authorities or other third parties may be required in order for you to operate lawfully. As a full service law firm, we can assist you in that regard by identifying which consents are required for your particular business.
3. Registering with HM Revenue and Customs (HMRC)
Whether you are a sole trader or conducting business through another medium, you will need to register your business with HMRC for tax purposes and you will be responsible for submitting your own tax returns. Failure to do this can result in penalties from HMRC. You may also need to register your business for VAT, depending on the level of your anticipated annual turnover. We will partner with industry-leading accountancy professionals to ensure your registration and tax requirements are fully considered. If you are employing staff, you will also need to register your business with HMRC as an employer.
4. Insurances for your business
It is important that you have adequate and appropriate insurance in place before your business operation commences. The type of insurance and the level of cover you require will depend on the nature of your business. Although we do not provide insurance advice, we regularly work with sector-leading insurance advisers and can work with them to assist you in this regard.
5. Protecting your brand
Intellectual property may have significant value and therefore knowing how to effectively protect your intellectual property is important.
Our intellectual property team can assist you to register and protect your brand in the UK. By doing so you will be able to take legal action against anyone who uses your brand without permission. Our intellectual property team can also assist you to license your intellectual property rights to others.
6. Other important considerations
How are you going to fund your business venture? We work with various organisations that can connect you to a range of funding options, and can offer a range of grants for small and medium enterprises and larger companies.
You will need to consider who is going to assist you in making your business a success. Whether you are looking to employ staff or engage with consultants or workers, our employment team can assist and guide you in respect of whatever staffing options you might wish to consider.
You may also need to buy or lease premises, depending on the nature of your business. We regularly work with sector-leading property consultants and surveyors and can liaise with them to find suitable premises for you to buy or lease, and advise on all the necessary legal formalities.
It would be prudent to consider having separate terms and conditions under which you intend to trade with customers and suppliers so that you properly protect your business and minimise the risk of disputes with suppliers or customers, which can be expensive and stressful. Our contracts team can assist with preparing a set of appropriate terms and conditions.
If you have any questions regarding this or another related matter, please get in touch with Keir Willox at keir.willox@shepwedd.com, or your usual Shepherd and Wedderburn contact.