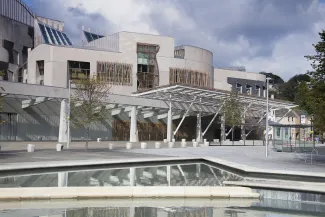 What does the Bill do?
The Bill simplifies and clarifies the existing Scots law relating to assignation of rights and introduces a new form of Scots law fixed security that can be granted over tangible moveable property and certain intangible moveable property known as the "Statutory Pledge". The Bill also introduces two new online registers – the Register of Assignations and the Register of Statutory Pledges – in which assignations (i.e. assignments of debts under English law) and statutory pledges (over "corporeal" and certain "incorporeal" assets) can be perfected.
For a more detailed summary of the changes and how they will benefit different business sectors, please see our Moveable Transactions landing page.
How has the Bill evolved?
The material scope of the Bill has remained largely the same since it was first introduced in May 2022. Some key changes were however made as it passed through the Scottish Parliament. In particular:
Individuals will not be permitted to grant the new Statutory Pledge unless they are acting in the course of business and the assets being secured are used wholly or mainly for their business and have a monetary value exceeding £3,000. This amendment was introduced to address concerns raised about the impact of the Bill on consumers, while leaving the statutory pledge available to sole traders.

Where the pledgor is a sole trader, enforcement of the new Statutory Pledge will require a court order.

Protections for parties who acquire property that is subject to a Statutory Pledge in good faith have been clarified, in particular the conditions relating to what will constitute a party being in good faith.

Set-off provisions have been simplified to ensure minimum change to existing rules applying on assignation.

Provisions releasing assignations and pledges over post-insolvency assets have been extended also to release assigned and pledged assets arising following approval of a restructuring plan under Part 26A of the Companies Act.

Fees for searching the new registers will not be payable by not-for-profit money advisors.

A review period of five years has been introduced, under which the Scottish Ministers must review and report on the impact and operation of the Bill once implemented.
Next steps, outstanding questions, and when will the Bill be implemented?
Now it has been passed, the Bill will move forward to receive Royal Assent, following which a number of regulations will be required to implement various parts of the Bill. Although timing will be subject to the speed at which the implementing regulations progress and development of the new electronic registers is completed, it is hoped that the Bill will come into force during 2024.
There are a number of outstanding issues and open points to be dealt with before the Bill comes into force:
Confirmation that the new Statutory Pledge will be extended to apply to shares in Scottish companies and other Scottish financial instruments. This will require regulations to be made by the UK Government.

Completion of the two new registers, including their content, registration, search processes and the cost of registration and searching. This will require continuing engagement with Registers of Scotland and implementing regulations.

Clarification of the interaction of some aspects of the new Statutory Pledge and perfected assignations with insolvency processes. The Scottish Ministers have undertaken to consult as part of this process.
In the meantime, financial services firms from capital markets players to commercial finance providers will want to consider how the new legislation will impact their markets, systems and documentation and, ultimately, benefit their customers.  Businesses themselves may wish to consider their expanding funding options and those that advise all involved in those markets will also need to get to grips with the changes being made.