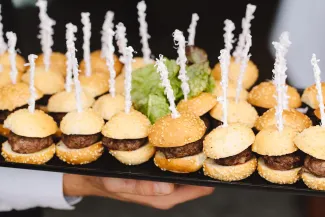 In a landmark decision, the European Union Intellectual Property Office ('EUIPO') has ruled that McDonald's, one of the world's largest fast food chains, will lose its EU trade mark for "Big Mac".
The legal challenge
In a legal challenge raised by Irish restaurant chain Supermac's, the fast food global giant was unable to provide sufficient evidence to establish genuine use of the "Big Mac" trade mark within the EU for goods and services such as meat sandwiches and the preparation of carry out foods.
In its attempt to establish genuine use of its registered trade mark "Big Mac", McDonald's filed evidence including posters, packaging, printouts from European websites and affidavits from company representatives attesting to Big Mac sales across Europe. The EUIPO held that the materials did not prove that the products are offered for sale and, therefore, did not provide evidence of commercial transactions. As a result, McDonald's "Big Mac" EU trade mark, which has been registered since 1996, has been revoked in its entirety.
An ongoing legal battle
This decision forms part of an enduring "David and Goliath" legal battle between the global corporate giant and the family-owned Irish restaurant chain Supermac's, which began when McDonald's filed an opposition in 2014 against Supermac's EU trade mark for "Supermac's". In an attempt to prevent Supermac's expansion into Europe, McDonald's claimed that consumers would confuse "Supermac's" with its own registered trade mark "Big Mac" and that a registration for "Supermac's" would take unfair advantage of the reputation established by "Big Mac". In response, Supermac's then initiated proceedings to cancel McDonald's "Big Mac" EU trade mark – with much success. The global corporate giant has fallen on its own sword, in a victory for the underdog. Whilst McDonald's has lost its EU trade mark for "Big Mac", this does not prevent it from relying on any national trade marks it holds for the same mark.
Wider implications
This decision serves as a stark eye-opener for owners of EU trade marks. As the ruling underlines, the burden of proof to demonstrate genuine use is on the owner. Even for trade marks that may seem like established household names, the evidence submitted must be sufficient to warrant continued protection. To mitigate this risk, trade mark owners should establish and maintain evidence of use of their trade mark registrations from the date of their registration. Furthermore, the decision acts as a warning to multinational corporations that the EUIPO is unwilling to tolerate the continued registration of trade marks in cases in which there is no genuine use of those registrations and their sole use is to be kept in the corporate war chest to stomp out competitors.
There is no guarantee that this judgement will be upheld as it has been reported that McDonald's intends to appeal this decision. However, until then, Supermac's are lovin' it.
With additional reporting by Sarah Drummond and Gemma McWatt.