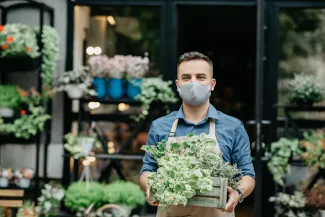 Today marks a significant date for many Scottish businesses as we ease out of lockdown. All retail premises, libraries, museums and galleries, tourist accommodation, gyms and swimming pools are permitted to open, along with the hospitality sector.
Pubs, restaurants and cafes will be allowed to operate indoors until 8pm (without serving alcohol) and outdoors until 10pm (including the sale of alcohol in accordance with the relevant licensing laws). With the reopening of venues, the limit on wedding and funeral attendance will be raised to 50.
As we begin to look forward with a sense of optimism, it is vital that businesses remain vigilant of potential risks. Employers and business owners must ensure they are implementing the correct controls as an important part of the fight to stop the spread of COVID-19.
It must also be recognised that these Coronavirus-specific measures are in addition to all other 'ordinary' health and safety measures. The focus must be on protecting employees, customers and other people who are impacted by the business from any risks to their health and safety.
Taking appropriate COVID-19 measures requires a business always to be aware of the current and frequently updated guidance put in place by the government, ensuring that all reasonable measures are introduced to mitigate the risk of transmission.
Although infection rates are dropping, now is not the time for complacency, and Coronavirus-secure measures must remain the highest priority.
Individual responsibility is key, but this will also be backed up inspections carried out by the Health and Safety Executive (HSE). Although the HSE may be prepared, in the first instance, to offer advice and guidance to businesses on managing the risk of Coronavirus, businesses should be under no illusion that formal action can and will be taken if the risk is not being properly managed. This may include issuing enforcement notices or the threat of prosecution.
Key points for businesses to consider include:
Revisit and update your COVID-19 risk assessment. A COVID-19 risk assessment is a legal requirement.  As businesses re-open, it is imperative that COVID-19 risk assessments are updated to make sure they comply with the latest government guidance. Implementing prudent precautions will also result in customers and employees adapting and modifying behaviours in order to succeed in minimising Coronavirus transmission in the workplace.
HSE has referred to a "renewed vigour" on COVID-secure measures. This means all businesses must put in place measures that both encourage good behaviours and are properly monitored and enforced to ensure everyone affected by the business is following them. Examples include ensuring social distancing is adhered to, frequent cleaning of the premises, good hand hygiene by employees and customers, and appropriate ventilation within the workplace.
Ventilation. Businesses can take relatively simple steps to improve airflow within enclosed premises by natural or mechanical means. Good ventilation reduces the presence of COVID-19 in the air, and so reduces the risk of airborne transmission of the virus.
Businesses must take individual responsibility and accountability. While the government can publish the latest guidance, it is fundamentally a business's own responsibility to ensure that as and when it re-opens it has in place, and properly implements, Coronavirus-secure measures.
Being closed for a long period of time means businesses should also think about the possible risk of Legionella, the bacteria that causes Legionnaires' disease. That bacteria can grow where there has been stagnation in the water system (due to lack of use when premises were in lockdown).
Finally, reopening after an extended period of closure means employers must be acutely aware that employees may feel less confident in their abilities, or less familiar with the workplace and its equipment. They might need additional training and support from the business. Risk assessments carried out as part of the re-opening should also ensure that any equipment has not deteriorated during lockdown and remains safe and fit for purpose.
Since the start of the pandemic, the HSE has reported that it has completed over 165,700 COVID-19 spot checks and responded to more than 210,000 concerns. The HSE is conducting approximately 2,000 workplace checks a day and this number is likely to be rising.
Businesses should ensure that they prepare fully for their reopening and take all necessary precautions.
For more information please contact Kevin Clancy or your usual Shepherd and Wedderburn contact. This article was first published in The Scotsman.