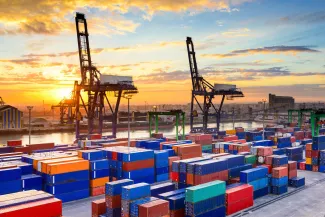 On 1 January 2020, the International Chamber of Commerce (ICC) will introduce its revised rules and trade terms governing global freight transport. 
The Incoterms rules were first introduced by the ICC in 1936 to "establish commonly accepted definitions and rules related to the sale of goods between trading partners worldwide", and now facilitate international trade valued in the trillions of dollars each year.
Incoterms 2020 will replace the 2010 edition with rule revisions to "reflect changes in the international trade system". 
Incoterms 2020 – what does it mean for you? 
Incoterms are essential for international freight delivery. They set out in clear terms how goods are to be delivered to specific points, at whose risk they are delivered, and who is responsible for all attendant costs.
Some contracts may already be using Incoterms 2020. However, there is no requirement to switch to the new Incoterms provided the contract specifies the earlier 2010 Incoterms will apply.
The main changes which have been introduced are:
Change from DAT to DPU
Incoterms 2010 state that under DAT (Delivered at Terminal), once goods are unloaded at a named terminal they are delivered. Incoterms 2020 replaces DAT with DPU (Delivered at Place Unloaded). This means the Incoterm is more flexible allowing, for example, a wind turbine, or other goods to be delivered to site, not just to a terminal.
Insurance
CIP (Carriage and Insurance Paid) is an Incoterm where the seller delivers to the carrier and pays for carriage and insurance to the destination. In Incoterms 2020, the level of insurance required has increased from a relatively basic level (Clause C (Institute of Cargo Clauses)), suitable for bulk commodity cargoes, to a level more often used for manufactured goods (Clause A (Institute of Cargo Clauses)).
Costs
Incoterms 2020 has clarified in a number of areas the allocation of costs between seller and buyer. The general approach adopted is that the seller is responsible for costs up to delivery and the buyer responsible beyond after that point.
Bills of Lading
FCA (Free Carrier) is often used by sellers to avoid the risk associated with FOB (Free on Board) of a container being damaged whilst in a container stack (when the seller has no control, but remains responsible). However, trade finance often requires bills of lading to be provided. But, sellers using FCA are unlikely to be able to obtain the bill of lading. Incoterms 2020 provides that under FCA the buyer will direct its carrier to issue the bill of lading to the seller.
Security
Incoterms 2020 has clarified the approach to costs and delays associated with transport security. For example, if containers are screened and held up at customs, the costs and the costs of delay are dealt with in greater detail than under Incoterms 2010.
Use of own transport
​​Before Incoterms 2020, it was always assumed that a third party would deal with transport between seller and buyer. It did not deal with a party arranging its own transportation. Incoterms 2020 clarifies in certain Incoterms, such as FCA (Free Carrier) that this is an option.
Businesses should check the specific Incoterms they use and establish whether they have changed under Incoterms 2020. If they have changed, it may be useful to review and if necessary update your standard terms and conditions.
Please contact the Shepherd and Wedderburn Trade and Commerce team to discuss. 
Incoterms 2020 can be purchased from the International Chamber of Commerce.