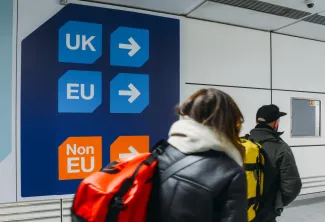 The end of free movement following Brexit would lead to one of the biggest changes to immigration law in over 45 years, and is likely to bring the issue of immigration into sharp relief for almost every business and organisation in the UK.
The UK Government's White Paper follows the Migration Advisory Committee's recommendation that there should be no special treatment for EU nationals. If the Government is successful in ending free movement, EU nationals will have to adhere to the same immigration rules as non-EU nationals. One of the big questions is whether the current system, which is heavily bureaucratic, can cope with a huge increase in demand from employers. 
The White Paper contains some welcome improvements to the current system, not least the prospect of the burdensome Resident Labour Market test being scrapped and a widening of the job roles available for sponsorship. The greatest barrier to sponsored migration, however, will be the salary cap, which is now the subject of consultation. Those businesses and public sector organisations that feel the current £30,000 minimum salary threshold is far too high should consider making their voices heard and raising their objections during the consultation period. It is also likely that, regardless of the temporary visa route proposed, many more businesses are going to need to sponsor migrant workers in order to fill gaps in their workforce and the existing labour market. Sponsorship is a demanding and costly process for employers to undertake but in order to recruit the right people it will, increasingly, become necessary.