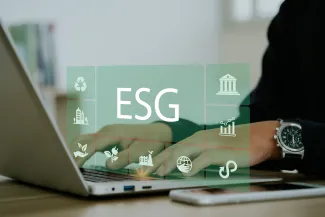 What is a B Corp?
So, what is a B Corp? A B Corp is a company that has been certified by B Labs for voluntarily meeting high standards of verified performance in various environmental and social performance metrics.
What are the benefits?
Becoming certified as a B Corp means that you will join a community of like-minded companies, that uphold the same rigorous standards of social and environmental responsibility. Access to this community comes with various benefits including:
Establishing business relationships:

access to the B Corp community allows networking with business leaders from other B Corps.

Attracting talent:

strong values, backed by B Corp Certification, can be helpful in your company's recruitment process, as much of the modern workforce align with such B Corp values.

Use of B Corp seal:

once a business becomes B Corp Certified, it can apply the B Corp seal to its products and services. This instantly recognisable seal provides an element of third-party validation, which may elevate the status of products and services. B Corp Certification is becoming an ever more increasing requirement in tenders for certain sectors.
What is the process?
Any company with at least a year of commercial operations can apply to become a B Corporation using the following steps.
Pre-certification:
Complete a B Impact Assessment:

this is an online tool covering around 200 questions on the company's impact on its key stakeholders and assessing best practices on mission and governance. The company must also complete a confidential disclosure questionnaire (to disclose any sensitive practices, fines or sanctions). 

A company needs to score at least 80 points before submitting their B Impact Assessment for B Corp Certification.

Update Articles of Association:

a company's Articles of Association must be updated

to meet the so-called 'B Corp Legal Requirement', which is a mandatory change to include specified B-Corp mission-aligned legal statements:

Legal requirement – B Lab UK (bcorporation.uk)

(the exact language, which must be included without amendment, can be found here:

Legal requirement Sept 2018. Pdf – Google Drive

).
Submission of B Impact Assessment:
Once a company has scored +80 points on the B Impact Assessment, the company can submit their assessment to B Lab to begin the review and certification process. This will include providing supporting documentation and having a review call with an analyst to discuss the B Impact Assessment in more depth. Once the submission and verification process has been completed, the company needs to sign the B Corp Agreement and pay an annual certification fee
Post-certification:
Reverification

: all B Corps must recertify every three years by updating their B Impact Assessment.

Annual Impact Reporting

: during the two-year period between re-certification, all B Corps must publish an annual impact report, which should be circulated to key stakeholders, investors and published on the company's website.

Annual Fee:

Once certified, an annual fee applies and is calculated on the company's last set of audited accounts (

Pricing - B Lab UK (bcorporation.uk)

).
What if my company has not been trading for more than a year?
If your company is not eligible to become a B Corp, you can instead apply for Pending B Corp status. The application process to become a Pending B Corp is largely the same as applying to become a B Corp, but with a few key differences.
Pre-certification:
As above, you must update your company's articles of association and complete a B Impact Assessment. The B Impact Assessment will not be verified by B Lab at this stage but is required to teach you about the B Corp standards and how you can prepare your company to attain B Corp status.
Pending B Corp Agreement:
Once the above steps have been completed, B Lab will provide you with an agreement which outlines further details about Pending B Corp status. A fee is payable to enter into this contract. However this is not a fixed amount and will be determined by your local B Lab organisation.
Post-certification:
After your company has traded for more than a year, it can then apply for B Corp status. To do so, you will need to follow the application process set out above.
Full details of the B Corp Certification Process can be found here: The B Corp Certification Process.
Shepherd and Wedderburn's corporate team combines industry knowledge and extensive experience with technical expertise, and is on hand to assist businesses at all stages of their growth journey. The team's Start to Scale initiative, comprising written guides, video content and in-person events, addresses some of the specific challenges affecting start-ups and scale-ups throughout their lifecycle to give entrepreneurs the insight they need to scale. Visit www.shepwedd.com/start-to-scale for more information, or contact John Morrison, Partner in Shepherd and Wedderburn's corporate team, at john.morrison@shepwedd.com.