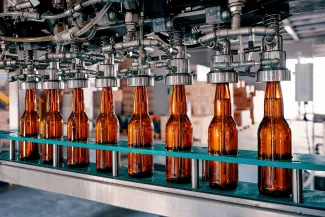 Enforcing the UK's territorial constitution
The UK's territorial constitution (notably the devolution and internal market statutes) is designed to balance the division of powers between our different governments.
The diverging policy agendas of those governments are creating regulatory risks which food and drinks firms must navigate, on matters ranging from single-use plastics restrictions, food and drink (and alcohol) promotions, the introduction of deposit return schemes and the regulation of tied pubs.
Where the legal limits set under the territorial constitution are breached by such policy initiatives, businesses may have the ability to protect their interests in the UK courts. Current and pending cases promise to shed greater light on these constitutional limits and the remedies available to enforce them.
Collaborating to achieve sustainability goals 
The achievement of ESG and wider sustainability goals is often facilitated by collaboration among businesses, e.g. on the introduction of more sustainable production methods. However cases such as the Dutch investigation into the 'Chicken of Tomorrow' arrangements among poultry producers, highlight that these arrangements (which may, e.g., dampen price competition) can nonetheless engage UK and overseas prohibitions against anti-competitive agreements and concerted practices.
Competition enforcers, including the UK's Competition and Markets Authority (CMA), are taking steps to assist businesses to resolve the tensions inherent in 'sustainability agreements' and find ways to mitigate enforcement risks.
Working through post-Brexit regulatory divergence
The regulatory impacts of the UK's departure from the EU and its single market continue to emerge, creating challenges for businesses operating in the UK food and drink sector, including those engaged in cross-border trade.
The UK Government's planned 'sunsetting' of legacy EU regulations covering areas such as agriculture, fisheries, aquaculture, agri-food and plant health poses a huge challenge for law-makers and administrators, raises questions about democratic accountability and also creates uncertainties for firms.
In addition, the UK Government's steps to develop its independent trade policy, such as on sanctions, are adding to the regulatory risks for cross-border activity (e.g. in relation to the export of luxury products).
Holding firms accountable for 'green claims' 
The claims made by food and drink businesses about their 'green' ambitions, such as those included in prospectuses or financial statements, and credentials (e.g. as to the environmental sustainability of their products or services) are coming under increasing scrutiny from regulators and stakeholders in the UK and overseas. 
The UK Government is poised to introduce sweeping new powers allowing the CMA to enforce consumer protection laws in cases where misleading claims are being made. In addition, the UK courts are hearing landmark claims brought by investors designed to hold directors accountable for delivering corporate sustainability strategies.
Balancing AI innovation and regulation
In light of the UK Government's March 2023 White Paper on a pro-innovative approach to AI regulation, we are looking at the legal issues for businesses grappling with how regulatory regimes across all sectors of the economy, including the food and drink sector, adapt to the opportunities and challenges created by AI deployment and acceleration.
Environmental and food standards regulators are being handed enormous flexibility to implement the government's five key principles of:
safety, security and robustness,

appropriate transparency and explainability,

fairness,

accountability and governance and

contestability and redress.
On the one hand that creates opportunities for innovation, but on the other leaves room for uncertainty and fragmentation.
Reinforcing openness and fair-dealing in the public sector
Food and drinks businesses dealing with government need to be alert to the impact of transparency and fair-dealing regulations in relation to factors such as. freedom of information, subsidy control, lobbying and public procurement.
Recent and ongoing changes in these various rules pose risks and may also give rise to opportunities.
In particular, businesses should ensure they are up to speed with initiatives at UK and Scottish government levels designed on the one hand, to reinforce transparency and accountability and, on the other, to provide greater commercial flexibility, e.g. for public sector buyers.  
Creating financial accountability for regulatory failings
Food and drink businesses can be significantly affected by the behaviour of regulated utilities, such as those operating water or transport infrastructure.
The failure of this infrastructure can result in considerable costs for firms, users and wider communities, but remedial action has traditionally been viewed as a matter to be handled by the relevant regulators, e.g. via enforcement action.
However, cases are beginning to emerge in which underperformance by utilities is being founded upon as the basis for damages claims, in parallel to regulatory remedies. These claims, which may involve large classes of claimants, are of interest not only to affected parties but also litigation funders.
We welcome feedback on these themes and would be happy to have a dialogue with interested parties. Please feel free to get in touch with Gordon Downie, Head of Regulation and Markets or George Frier, Head of Food and Drink, or via your usual Shepherd and Wedderburn contact.