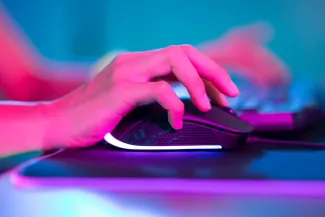 A recent European Commission case against Valve, owner of the popular PC game distribution platform, Steam, provides a warning to companies distributing their products across the European Economic Area.
Scott Rodger, Competition and Regulation Solicitor at Shepherd and Wedderburn, gives an overview of this decision and what's on the horizon for vertical agreements.
What happened?
In the case, publishers granted Valve a non-exclusive licence to sell specific PC games worldwide. The publishers received from Valve a licence to use Steam activation keys for games outside of the Steam platform – here consumers could visit a website outside of the Steam platform, buy a game, and download and activate it on Steam with a code. However, the publishers sought agreements with Valve which would prevent, for example, French consumers activating a game when bought via a website serving Poland. By agreeing to 'geo-block' in this way, the publishers and Valve had entered into an anti-competitive agreement, contrary to EU law.
In January 2021, Valve and five other video game publishers, Bandai Namco, Capcom, Focus Home, Koch Media and ZeniMax were collectively fined €7.8 million. The fines reflect the EU's approach to companies that seek to block potential trade between consumers in different member states – something that the Commission sees as detrimental to the principles of the single market. Common with other competition law infringements, the companies could also be at risk of follow on damages claims from people impacted by these agreements.
EU competition law enforcement in relation to distribution agreements has a long history, traceable back to the 60s with the leading case of Consten and Grundig. The area has been developed over the years, for example in the context of blocking online cross-border sales in cases like Guess Clothing. The Valve case serves as a reminder to distributors of products and services in the EU, particularly digital products and services, that they must comply with EU rules on distribution and not prevent 'passive sales' to consumers between member states.
In addition, the Geo-Blocking Regulation, in force since December 2018, complements and in some senses overlaps with the EU's competition rules applicable to distribution agreements. It is therefore important for companies to consider both this Regulation and general competition law (in particular the guidelines and wider rules on vertical agreements) when implementing a distribution strategy.
What's on the horizon?
EU law in this area continues to evolve, and we expect that further changes may take place in the future, particularly as the Commission continues its long-anticipated review into the Vertical Block Exemption Regulation. The EU will publish a proposal for revised Verticals Guidelines and Block Exemption Regulation later this year, and it will be important to see how the Commission plans to revise the now decade-old Regulation and Guidelines to account for how markets and practices, particularly online, have evolved. Similarly, in the UK, the Competition and Markets Authority has announced that it will also review the Vertical Block Exemption, which is currently part of retained EU law applied in the UK following Brexit.
Need competition law advice or support? Speak to one of our expert team, or your usual Shepherd and Wedderburn contact. Our specialists can offer a full range of competition law support, from complex international transactions to local level advice.