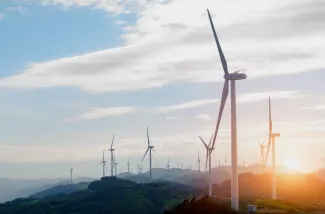 Last year the Scottish Government announced its ambition to deploy 20GW of onshore wind by 2030. If achieved, this would more than double the 9GW capacity of onshore wind currently operational in Scotland and could create the equivalent of £27.8 billion in gross value to the Scottish Economy. Most onshore renewable sites have a time-limited planning consent which is usually for 25 to 30 years, after which the renewable project can be decommissioned. However, over the next decade it is expected that 2.5GW of operational wind farms are expected to reach the end of their consented life. With such ambitious renewable energy targets being essential to Scotland meeting its climate change commitments, it is little wonder that there is a growing emphasis being placed on extending the life and repowering existing onshore wind sites.
Repowering existing onshore wind sites typically means removing the existing turbine infrastructure and replacing it with more efficient and larger turbines, while using the existing infrastructure on the site, such as the access roads and electricity networks. As older wind farm sites typically have strong wind resources they are usually well placed to take advantage of new technology. On average, repowering more than doubles the generation capacity in megawatts of wind farms and triples the electricity output, because new turbines produce more power. RenewableUK forecasts that repowering sites at the end of their operational life could contribute to 1.2GW of new wind capacity by 2030. Repowering can also provide an opportunity to use an existing site for a mixed technology project by including solar, battery storage or hydrogen electrolysers. This can ensure that the land use is maximised and result in increased economic benefit.
Repowering is not without its challenges however, which include the requirement for new planning consents. While the planning system is generally supportive of repowering, proposals are considered on a case-by-case basis and a new consent is not guaranteed. This is especially true where taller turbines, which could have a greater impact on the landscape and the environment, are being installed.
Installing larger turbines could also require the existing site to be extended onto previously undeveloped areas. Similarly, where tip height is being amended, the position of the turbines may need to be altered to make room for the large turbines. In both instances additional land rights may be required. It is also possible that the contracts put in place when the development was constructed may no longer be fit for purpose or match the requirements of the market.
Another option is to extend the operational life of a site by obtaining an extension in the planning consent and upgrading some of the components. The extension of the planning consent will usually be for 5 – 10 years. This option incurs less capital expenditure for developers and, in some instances, can allow the project to continue benefiting from subsidy schemes. However, extending the life of the project can result in higher operation and maintenance costs over the duration of the extension.
It is important to have the support of the local community when repowering existing sites. Where developers have strong relationships with the local community and those communities have seen the economic benefit of the wind farm, any repowering or life extension will likely be welcomed. Research conducted by RenewableUK has found that 74% of people in Scotland support the replacement of old turbines with new turbines and a majority support the installation of taller turbines where it allows for the generation of more power. In areas where repowering is most likely to take place, support is also particularly high, with 78% in South of Scotland and 77% in the North East of Scotland.
Not all sites will be suitable for repowering. There are a number of factors which will be taken into consideration when end of life decisions are being made for onshore wind farms but where possible, extending the life of the wind farm or repowering is generally a win-win as it allows for continued use of some of best sites for onshore wind, provides continued economic benefit to local communities and the economy and means that the developer can continue to use the existing infrastructure.
Shepherd and Wedderburn has already assisted developers repowering or extending the life of their developments. If you need advice or information on repowering, please do not hesitate to contact us, visit us at stand D20 at the All-Energy conference on 10 and 11 May at SEC, Glasgow, where our clean energy team will be on hand to share market-leading expertise, or access our All-Energy hub.