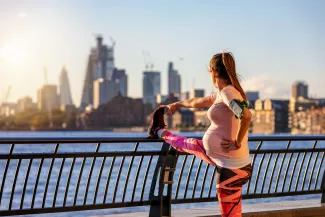 Pregnancy and parenthood have often resulted in penalties for professional sportspeople.
During Allyson Felix's contract negotiations with Nike in 2018, she was asked to take a 70% pay cut and later cut ties with the brand after she gave birth. While brands may continue to have a (potentially unconscious) bias against sponsoring certain athletes due to pregnancy, which can have a substantial financial impact on the athlete, recently sports governing bodies have been making policy and regulatory changes to protect athletes who take time out of sport due to pregnancy or parenthood.
In 2019 the Women's Tennis Authority (WTA) made significant changes to its rules so that those returning to sport after pregnancy or starting a family could:
Freeze their ranking from the date they left competitive tennis (assuming they were off for a minimum of six months) for a maximum of three years for pregnancy and two years for adoption, surrogacy, or legal guardianship;

Use that ranking in WTA tournaments within one year from the date of their return; and

Use that ranking for seeding purposes at the first eight WTA tournaments played after their return.
The WTA's approach recognises the need to recover after childbirth, but also that players starting a family may need to take time off outside of maternity leave.
The WTA's definition of pregnancy is "the medically diagnosed condition of being pregnant", which appears to afford the benefits of its seeding rule to a player not only where they have given birth and then taken maternity leave, but also where players take time off after suffering miscarriage or having a stillborn child.
Compared to other sports governing bodies, the WTA's acknowledgement of adoption, surrogacy, and legal guardianship of children, and its broad definition of pregnancy, is progressive.
The Fédération Internationale de Football Association (FIFA) introduced maternity rights to its Regulations on the Status and Transfer of Players (RSTP) in January 2021. Since then, the RSTP has:
Entitled female footballers to a minimum period of 14 weeks' paid leave due to pregnancy, with a minimum of eight weeks occurring after the birth of the child during the term of their contract, paid at the equivalent of two thirds of their contracted salary;

During the term of their contract, given female footballers the right to remain in their role as a player or remain employed by their club in an alternative role if it is not safe for them to continue in their role as a footballer. In the latter circumstances the club must work with the player to plan for her alternative role and she must be remunerated in full until she goes on maternity leave; and

Given female footballers an express right to compensation (and formulae for calculating the compensation due) if their contract is terminated due to their pregnancy.
Those changes gave Sara Björk Gunnarsdóttir the right to more than £72,000 in compensation from Olympique Lyonnais Féminin, after she had suffered a pay cut during her maternity leave.
The mandatory eight-week maternity leave requirement and the obligation on clubs to offer footballers an alternative role if they cannot safely continue playing during pregnancy shows that FIFA are aware of the physical and mental impact of pregnancy and childbirth.
Similarly, the Rugby Football Union (RFU) announced in February 2023 that it was introducing policy that gives its female players the right to 26 weeks' maternity leave on full pay. Unlike the RSTP, the RFU's announcement does not confirm when its players are entitled and obligated to take maternity leave. It is also unclear as to whether FIFA or the RFU's maternity leave policies would protect those who suffer miscarriage or give birth to stillborn children. The RSTP and RFU policy would benefit from clarification in that regard.
The rules and policies on maternity and other parental rights adopted by sports governing bodies cannot operate such that they override more favourable entitlements set out in law. The RSTP recognise this and state that national law will prevail where more beneficial conditions are provided to female players.
In the UK, employees have a legal right, provided they meet certain criteria, of up to 52 weeks' maternity leave and pay (six weeks at 90% of average weekly earnings then 33 weeks at 90% of average earnings or a prescribed weekly sum (currently £172.48), whichever is lower, with the remaining 13 weeks unpaid). Sports clubs and organisations must be aware of how the various rules fit together.
Aside from maternity leave, the RSTP and the RFU's announcement do not address paternity or any other parental rights. Similarly, there is often a lack of clarity around the rights of those who suffer miscarriage or have stillborn children, despite the emotional and physical impact of these events. FIFA and RFU players must therefore rely on their statutory rights if they want to take paternity, adoption, parental bereavement, or other parental leave.
The lack of clarity on pregnancy and parental rights is consistent with many sports governing bodies where the framework for parental rights is incomplete. While the parental leave landscape in professional sport has been evolving recently, sports governing bodies ought to develop their policies to acknowledge the need for athletes to have enhanced rights during pregnancy (whether that pregnancy ends in childbirth, miscarriage, or stillbirth) and parenthood more generally.
As the governing bodies get up to speed, professional athletes who are pregnant or are soon to become parents and, crucially, the clubs and organisations which employ them, must understand not only their club policies and governing body's rules and regulations, but also the statutory rights to ensure that the athletes are aware of any leave and pay they are entitled to during that time.