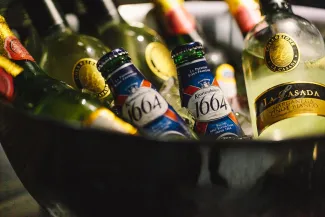 A recent decision by the City of Edinburgh Licensing Board in connection with the premises licence application of WeWork Community Workspace for the flexible office provider's George Street co-working space has sparked interest amongst licensing practitioners and office occupiers alike. Not because the application related to a sixth-floor communal area, including rooftop terrace, for a 1,100 capacity office building. Nor because this was a unanimous decision of the Board for premises located in an area of overprovision, which might have made headlines in its own right. But because the workers in the office building were given access to self-service alcohol pumps.
As the increase in co-working spaces gradually changes the fabric of our city centre office landscapes and the working environment, premises licence applications of the sort presented by WeWork raise interesting questions in terms of the Licensing (Scotland) Act 2005, and are an undoubted challenge for licensing boards. In this instance, the Convenor of the Licensing Board was reported to have initially described the application as raising "alarm bells", while Police Scotland was concerned about how the sale of alcohol would be properly and adequately supervised.
Subsequently, the Licensing Board requested a site visit to the premises, while WeWork's representatives sought to answer various questions raised at the Licensing Board hearing. The application was ultimately granted, consistent with a recent decision of the Edinburgh Board to grant a licence for self-serve beer pumps at student accommodation in the Fountainbridge area of the city, on the following conditions:
the self-service of alcohol will be supervised by a trained member of staff;
measures will be put in place to enforce a four drink maximum per person each day;
the four drink maximum will be communicated to staff via a notice near the point of sale; and
the four drink maximum will be enforced by coloured wristbands, with part of the paper band removed each day for each drink consumed.
With the growth of co-working spaces, will Scottish licensing law evolve to accommodate such facilities, which are increasingly the norm both across the border and in the United States?
WeWork clarified that this was not a bar in the traditional sense. Rather, it was a social offering for its employees wanting an occasional drink in the building. The capacity of the communal area would be no more than 60. Furthermore, technological advances may be used in assisting with the four drink limit enforcement in the future (although, at the time of the Licensing Board's decision, such technology was not yet available to WeWork).
Considerations in a premises licence application
There are three key aspects that we advise our clients to consider as part of any application for a premises licence:
Section 50 Certificates: these are required for any new premises licence application. The capacity of a premises is determined in line with building standards regulations. Office premises are unlikely to have been designed or laid out with alcohol licensing conditions in mind. That may mean the total permitted capacity is less than the operator might ideally be looking for (having regard to load factors, toilet provisions, etc.). Engagement with the planning and food hygiene departments of the local authority will also be required as part of the application process.
Supervision: there are various mandatory conditions attached to Premises Licences in Scotland, and supervision was a significant barrier to preventing fully autonomous self-service at the WeWork facility. The 2005 Act requires all premises to have a premises manager, who holds a personal licence. Every sale of alcohol made on the premises must be authorised by the premises manager or a personal licence holder. In shared work spaces, although there may typically be a concierge or shared reception facility, how the sale of alcohol can be 'authorised' requires due consideration. The current wording of the legislation suggests a fully autonomous service of alcohol will be a step too far for Boards in light of this mandatory condition.
Overprovision: as in the case of WeWork, it is important to understand whether any potential application for a premises licence will be for premises located in an area that a licensing board has designated as an area of overprovision. Essentially, that there is a rebuttable presumption against the grant of a licence. It is for the applicant to persuade the licensing board that the application should be granted notwithstanding the overprovision policy.
For any office or accommodation operator looking to obtain a licence for the sale of alcohol on its premises (such as introducing self-service alcohol pumps at their premises), careful consideration and proper legal advice should be sought before making an application. Any relatively novel arrangements may raise eyebrows amongst licensing standards officers, the Police and Board members. Our specialist licensing team has experience of dealing with Boards across Scotland and will be able to guide occupiers through each stage of a premises licence application, from off-plan applications of unbuilt premises to applications for existing premises.