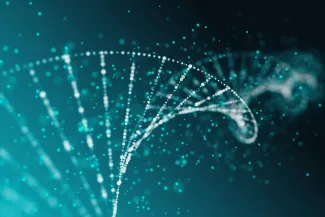 Scotland is currently home to one of the largest life science clusters in Europe, with more than 700 organisations based here employing some 37,000 people.
With 15 universities producing highly skilled graduates; the NHS as a massive single source of patient data; and world leading research centres in life sciences, Scotland attracts some of the brightest international scientists and life science businesses.
However, there are ongoing labour shortages in the life sciences sector, most notably in multi-disciplinary roles – and particularly those with a mix of life sciences and mathematics.
The UK Government has recognised this, to an extent, by keeping the role of Bioinformatician – a specialist discipline combining science and data – on the UK Shortage Occupation List. The Shortage occupation list specifies those jobs that the UK Government, as advised by the Migration Advisory Committee (MAC), has determined are in short supply. Positions on the shortage occupation list currently benefit from preferential access to restricted Certificates of Sponsorship, and a relaxation of the resident labour market requirements.
A no-deal Brexit
The ramifications of a no-deal Brexit for the life science sector, and many other sectors for that matter, are significant. This prompted the Government to start releasing in the summer a suite of 84 technical notices that offer guidance across a range of sectors in this event.   
The guidance offered for life sciences includes measures to stockpile medicine and to enter into relationships with bonded warehouses to store products to mitigate against any potential customs barriers – illustrating the potential bureaucratic implications of a no-deal scenario.
The recent Migration Advisory Committee report
Last week, the MAC published its long-awaited report on the impact of Brexit on EU workers. It found that EU workers in the UK have made no significant impact on either wages or jobs, though its recommendations for post-Brexit immigration has raised concerns. In short, the MAC has advised there is no benefit in having a separate, preferential immigration system for EU nationals looking to move to the UK.
Assuming the Government follows this advice, and no special arrangement for EU nationals is agreed, the life sciences sector faces the prospect of a significant skills gap, should EU nationals view the Tier 2 visa process to be too burdensome once free movement ends.  
Tier 2
The MAC recommends Tier 2 remain the key immigration route for skilled workers post-Brexit, requiring the employer or education provider to apply to the Home Office for a sponsor licence.
Employers generally avoid the sponsor licence system as it is a burdensome process. However, one effect of Brexit already identified is an increasing reliance upon Tier 2, set against recent drop-offs in EU migration.
In the period from November 2016 to July 2017, Tier 2 visa demand exceeded the Home Office monthly quota. It was only after Sajid Javid took over as Home Secretary that doctors and nurses were removed from this cap, freeing up spaces for other sectors.
The MAC recommends this cap, currently 20,700 per year, be removed, which, along with the removal of the extremely technical resident labour market test that mandates how a job can be advertised, should simplify the process.
That said, with the minimum salary level remaining at £30,000 per year for skilled workers – falling to £21,000 for those joining as students or recruited through university milk rounds – and the immigration skills charge set to stay, there are still significant cost implications for employers. 
Post-study options
The MAC sidestepped a call for the return of the post-study work visa, which previously allowed students to remain in the UK and work for two years after completing their studies. Instead, it opted for a more limited approach, recommending PhD students automatically be given 12 months leave to remain in the UK after completing their studies, and Masters students a further six months.
In that time, graduates would be able to undertake full-time or temporary work; identify a Tier 2 sponsor or set up their own business and apply via the Tier 1 (entrepreneur) route.
Scientific research is, by its nature, unpredictable so flexibility is needed to accommodate unforeseen changes in circumstance.
If you would like to discuss any of the issues raised in this blog post, please contact the Shepherd and Wedderburn immigration team using the contact details below.