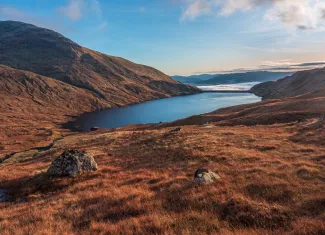 With no new pumped hydro schemes having being commissioned in the UK since 1984, a new report by BiGGAR Economics on behalf of the UK Pumped Storage Hydro Working Group (convened by Scottish Renewables) (the Report) makes the economic, and strategic, case for new pumped storage hydro.
Pumped storage hydro projects
The Report focuses on six new Scottish projects, namely:
Red John, Highlands

Coire Glas, Highlands

Glenmuckloch, Dumfries and Galloway

Cruachan Expansion, Argyll and Bute

Balliemeanoch, Argyll and Bute

Corrievarkie, Perth and Kinross
Long term storage
The UK's push toward net zero and energy security can be significantly aided by pumped storage hydro, and Scotland's plethora of reservoirs could be crucial in facilitating this shift.  As the Report notes, if all six of the projects were to be built, it could result in a fivefold increase to the UK pumped storage hydro capacity, with output capacity increasing by around 3GW.  While batteries will undoubtedly play a significant part in the shape of our network, pumped storage hydro could form a key ingredient in the nation's next generation grid.  Pumped storage hydro can provide proven, large scale, long duration storage and bring balance to the network.
UK saving
The benefit of such additional storage is not only environmental.  As the Report notes, an increase of 4.5GW of pumped storage hydro output capacity could lead to savings of up to £690m annually by 2050.  Pumped storage hydro can also accelerate the rate at which more variable / intermittent technologies can be deployed through providing the large scale, long duration, storage required to support those technologies.
A just transition
The geographical span of the projects noted in the Report is not only helpful, given the locations of the current onshore (and planned offshore) renewable projects, it also allows for their economic benefit to be enjoyed across Scotland and so support a just transition. The Report states this could bring up to £5.8 billion Gross Value Added and 92,800 years of employment in the UK, which includes £926 million Gross Value Added and 14,500 years of employment in the local areas.
Looking forward
Pumped storage hydro is not a new technology and indeed, quite the opposite, it is a proven, reliable technology.  The technology does, however, require significant capital investment.  If pumped storage hydro is to play its part in the mix, the question Government must ask itself is 'what more can it do' to support / de-risk investment decisions in, and to make a real market for, pumped storage hydro.