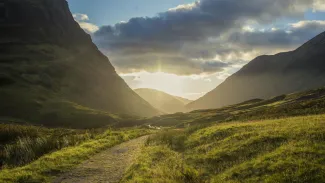 CAP: Some clarification
Following our April 2017 update on the Common Agricultural Policy, Michael Gove, the Secretary of State for Environment, Food and Rural Affairs, has recently shed some light on what may happen to the current subsidy regime in the United Kingdom, post-Brexit.
At the Oxford Farming Conference on 4 January 2018, Gove stated that the government will guarantee subsidies at the current EU level until 2022. After that, it is anticipated that there will be a transition period during which farmers would be expected to change their business model or make other adjustments as necessary. It was suggested that during this transition period, subsidy payments may continue to be available until 2024. 
A consultation will be held to determine whether payments equivalent to Basic Payment Scheme support (BPS) should continue during this period, and if so, at what rate.  During this time, subsidies would be reduced, perhaps by way of a sliding scale of reduction, or by introducing a maximum cap for larger claimants. A DEFRA report is due to be released later in January outlining the manner in which such a cap could be imposed. 
Gove also reiterated his criticisms of the current CAP system which he says advantages wealthy landowners by offering more subsidy to those with more acres. Additionally, he commented that the current system encourages wastage and inefficiency and fails to encourage good environmental practice.  This point of view is supported by the recent Agricultural and Horticultural Development Board's (AHDB) Horizon report showing that British farmers are lagging behind their international counterparts in terms of productivity. The AHDB has valued the loss to the UK's GDP between 2000 and 2013 caused by the productivity gap at £4.3bn. However, many farmers utterly refute this and point to numerous innovative practices found on their individual farms, designed to increase efficiency and productivity.
The subsidy regime post Brexit will have a new focus on incentivising environmental aims and the provision of 'public goods'. 'Public goods' include access to the countryside; planting woodland and wildflowers; boosting wildlife; and improving water quality, all of which will be introduced. Gove also acknowledged that some farmers, such as those with upland hill farms, will need to have ongoing financial support.
Fergus Ewing, the Scottish Government Cabinet Secretary for the Rural Economy and Connectivity, has commented that Gove's proposals are too vague. Notable gaps include sheep and beef support, new entrants, and forestry and environmental support programmes, which are recognised as crucial to ensuring the economic wellbeing of Scotland's rural communities. The Scottish Government remains intent on having full control of agricultural policy following Brexit.
There was no mention at the Oxford Conference of farmers' concerns that withdrawing or reducing subsidies will leave them unable to compete with cheaper, subsidised imports. This applies both north and south of the border.  However, some comfort may be drawn from the recent comments of AHDB's Rebecca Osborne in the Farmer's Weekly, that British livestock farmers are currently looking competitive compared with European exporters.   
Less Favoured Areas Support Scheme update
Fergus Ewing has announced that hill farmers and crofters in Scotland will receive 100% of their Less Favoured Areas Support Scheme (LFASS) grant, rather than the expected 80%. 
Expected changes to the EU CAP regulations do not allow LFASS to continue unchanged: the government had to choose between converting to the 'Areas of Natural Constraint Scheme' meaning  a reduction of the  total amount of support received by farmers eligible for LFASS payments, or commit to continuing LFASS at 80% of the usual rates. Choosing the latter option would reduce the total LFASS fund by up to £13m. The EU has now proposed delaying the expected changes until 2019, allowing the Scottish Government to continue the scheme unchanged, at least for one more year.  No doubt this positive development will be welcomed by Scotland's farmers.
Article contributor: Alexandra Smith, Solicitor, Shepherd and Wedderburn