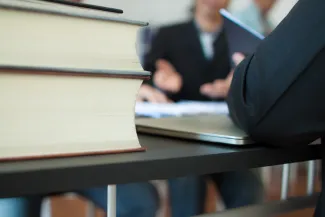 Executor/Executrix-Dative
When writing a Will in Scotland, it is important to appoint executors. An executor will carry out the administration of a person's estate when they have died in accordance with their instructions. This means they will register the death, sort out the finances and manage the assets of the deceased before arranging to make them over to the named beneficiaries. Any adult with mental capacity can be appointed as an executor in a Will, but it is recommended to choose someone who you can trust with the responsibilities attached to the role.
In some situations, there may be no appointed executor in place. This occurs if no Will has been written (if the deceased died intestate) or if the executors appointed in the Will cannot act. This can happen when the appointed executor has predeceased the testator, if the appointed executor is incapable or if they have declined to act. In these cases, an executor-dative can be appointed by the court.
Unlike an executor named in a Will (an "executor-nominate"), not just anyone can be appointed an executor-dative. Generally, it will be someone who is entitled to benefit from the deceased's estate. The courts can appoint (in order of preference) the surviving spouse or civil partner, the deceased's closest relatives, more remote relatives, and the deceased's creditors.
In this case, TR (the deceased) left a Will naming his wife, ER, as the sole beneficiary of his estate. The Will also named two executors. However, the two appointed executors had predeceased TR meaning there was no surviving executor in place. As mentioned, the deceased's wife could be appointed executrix-dative of the estate due to being his surviving spouse. However, the deceased's wife had unfortunately lost capacity by the time of TR's death and her daughter was acting under a Power of Attorney.
Power of Attorney
A Power of Attorney can be put in place to cover the situation where the granter loses mental capacity. This means their chosen attorney can make welfare and/or financial decisions for them. As ER had lost capacity, her daughter was making these decisions on her behalf. Therefore, the family wanted the daughter to be appointed as Executor of her father's estate as attorney for her mother.
A "representative" can be appointed by the court as executor-dative when the confirmed executor would have been entitled to be executor-nominate. This is what the daughter applied to the Sheriff Court to do in the first instance. However, this application was denied, on a technical point, as the Sheriff said that it was a question of whether the daughter could be executrix-dative as ER's attorney, not representative.
There was no specific legal precedent for this scenario as this question had not previously been tested in court. Instead, the Sheriff referred to the leading written authority, Currie on Confirmation of Executors, on the matter of appointing executors in Scotland. This authority stated that a guardian could be appointed in place of the incapacitated spouse, but not an attorney. This authority would suggest that the daughter could not be appointed as executrix-dative in place of ER even though she was making all key financial decisions for her mother, and that it would only have been possible for her to be appointed if she was a guardian rather than an attorney.
The Sheriff's Decision
Despite this authority, the Sheriff held that when dealing with a person's estate, it is in the public interest to deal with it as quickly and cost-effectively as possible. He believed that insisting on a guardian being appointed to apply for Confirmation when a financial attorney is already in place for an incapacitated person was not in the public interest. Many times, the guardian that would be appointed by the Court would be the same person as the attorney anyway and so the further application seemed in vain.
He concluded that, due to the above reasons, the daughter should be made executrix-dative as the attorney of ER which would allow proceedings to move along more quickly and would reduce unnecessary costs.
Comment
This rather pragmatic and common-sense decision emphasises the importance and usefulness of granting a financial Power of Attorney. Sheriff Mann sets the precedent that an attorney can become executor-dative for someone who has become incapable where the attorney would likely be the first choice for a guardianship appointment. It is to be seen whether this precedent will be followed by other Sheriffs or whether a higher court will uphold this decision but it is likely to be a decision welcomed by practitioners.
Further Information
For more information on Powers of Attorney, including what they are and how they work to empower your loved ones before they lose capacity, please see our previous article here.
How can we help?
Our Private Wealth and Tax team has a wealth of experience in relation to Guardianship, Powers of Attorney and the administration of estates. If you would like to find out more, please contact Laura Barron, Senior Solicitor in our Private Wealth and Tax team.