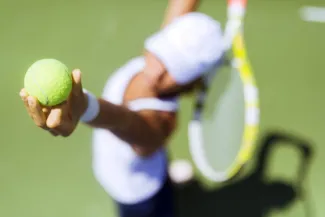 With the Cricket World Cup in full swing, and Wimbledon, The Open and the FIFA Women's World Cup just around the corner, it is set to be a bumper summer of sport. Let's just hope that last year's glorious weather was not a one off and that both crowds and the players will enjoy memorable competitions.
Off the field, it is hard to forget that there is another contest underway – that for the next leader of the Conservative party – and, with it, the prospect of a no-deal Brexit.  In this post, we consider how the Great British Summer of Sport would be impacted by a no-deal scenario and how sports organisations may choose to deal with these issues.
Each year, the UK hosts global tournaments that attract stars from around the world and, over the years, Wimbledon has played host to multiple overseas champions, from EU nationals such as Stefan Edberg and Steffi Graf to, more recently, Rafael Nadal and of course Swiss tennis legend, Roger Federer. But how do they get here? Free movement has meant for Federer and the tennis champions from the EU that immigration is not an issue, these players simply jump on a plane and show their EU/Swiss passport at the border.
For non-EU players such as Djokovic and the Williams sisters they will enter the UK as visitors. US nationals such as the Williams sisters will be able to use e-gates to enter the country as visitors, while others, such as Serbian national Novak Djokovic, are classified as "Visa Nationals" and will have to obtain a visit visa in advance of arrival and present their passport and visa to a Border Officer on arrival. Under the immigration rules for visitors, work is strictly prohibited, but sportspeople are able to take part in tournaments and receive a prize.
In terms of EU nationals, the UK government has stated in its White Paper on Immigration Reform that it intends to classify EU nationals as non-visa nationals (although this is caveated with a warning that this envisages reciprocity for British citizens). Therefore, for EU players there is unlikely to be any change in how they come to the UK or additional bureaucracy for them.
However, competitive sports is of course more than just the athletes, with technical and support staff invaluable to players and teams. Could these groups of people face problems at the border? Currently, non-EU staff can also enter the UK as visitors so long as they are in the employment of the sportsperson, and not, for example, self-employed at the time that they are trying to gain entry.  In other words, were free movement to end, self-employed EU physiotherapists, who are essential to many competitions, would have no means of entering the UK in future.
The workaround here would be for sports players and their management teams to employ these professionals so that they can continue to benefit from their support at UK tournaments, with the warning that the current rules restrict entry to "personal or technical staff employed for the sportsperson outside the UK".
In addition to those who support the athletes, there is of course in the background of any successful sporting event an army of volunteers who massively contribute to the success of the event. The immigration rules currently prevent people from entering the UK as a visitor solely for the purpose of volunteering. How many EU nationals come to the UK every year to volunteer at sporting events is hard to tell, but tournament organisers need to be alive to this issue.
In conclusion, then, while international sports stars will continue to be able to enter the UK should free movement end, there are issues in terms of their support staff and for tournament organisers themselves. This is not to mention the potential immigration issue of how sports organisations bring EU sports coaches into the UK should free movement end, but that's an issue for another blog…
If you are a tournament organiser, sports organisation or international sportsperson affected by these issues, and are looking for further information, please contact our Director of Immigration, Jacqueline Moore, on Jacqueline.Moore@shepwedd.com or 0131 473 5451.