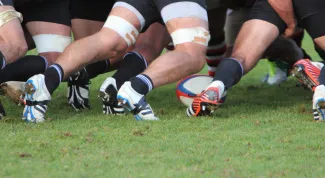 Two significant events this week raised eyebrows in the lucrative world of live sports broadcasting.
Firstly, Facebook agreed an exclusive deal to show La Liga to users in Asian territories including India, Bangladesh, Sri Lanka and Pakistan.
It will live stream all 380 matches this season for free to its 348 million users in the region. The move fits with Facebook's ambition to grow use of its social networking platform outside markets that have reached saturation. As a country with a population of 1.3 billion and relatively affordable mobile data, India, in particular, is an obvious target.
This is the first big move by Facebook but follows an expected trend with Amazon broadcasting the US Open tennis for the first time this month and proposing to bundle 20 English Premier League matches together with its Prime subscription service from next year.
In a world where competition for live sports rights has been under threat with traditional broadcast companies consolidating at speed and others (notably both the BBC and ITV in the UK) struggling to compete, seeing these new channels come to market is encouraging for sports rights holders and championship promoters.
The second significant event this past weekend saw Eleven Sports streaming live coverage of this year's PGA Championship, golf's fourth and final major of the year. Eleven Sports has competed successfully for a number of valuable broadcast rights in recent months.
However, a string of technical issues affected coverage on day one of the championship - including a very makeshift studio offering, microphone crosstalk and a cut in service as Brooks Koepka holed the winning putt - left many viewers unhappy with the coverage.
Live sports is the last great asset of the linear TV industry and sports rights holders have been the principal benefactor of enhanced competition from new entrants to the market. The value of live rights has continued to escalate.
However, it becomes clear that the experience and technical skills of the more traditional broadcast companies in producing an entertaining and quality broadcast feed should not be discarded lightly in return for short-term financial benefits.
Rights holders will be acutely aware that their real asset is not the live rights they control, but the audience for those rights. In a multi-channel world where the sports fan must choose carefully where to allocate their time, an audience will be swiftly lost to poor quality coverage, and much harder to rebuild.
So while increased competition from the technology companies will help maintain the financial value of live rights, the risks of moving away from more traditional broadcasters will remain significant. Until, that is, the geeks learn the skills needed to deliver a quality product. 
History suggests that will not take long.