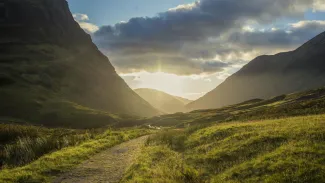 This article originally appeared in the Feburary issue of Farm North-East. 
Clients have asked me on a number of occasions recently to give advice where they have not qualified for receipt of Basic Payment Entitlements (BPE).  Unfortunately, quite often the advice that I've had to give is that the eligibility rules have been drawn up in a way that means that some perfectly ordinary farming businesses can be disqualified from obtaining BPE.  
Essentially, there are three routes to obtaining BPE.  The first is where the farmer was in receipt of Single Farm Payment (SFP) in 2013. Most claimants fall into this category. The second route is where a claimant has never been in receipt of SFP but was an active farmer in 2013. The third route is where someone is starting agricultural activity for the first time after May 16, 2015. 
An example of how things can go wrong for potential claimants is as follows. A farming business was active in 2013 but was not in receipt of SFP. It then purchased SFP in 2014. The business failed to qualify for BPE under any of the three routes outlined above. 
The decision to purchase SFP in 2014, taken for perfectly good business reasons at the time, meant that the business could not qualify under route two. Many people will consider this a very unfair and unjust result.  It is an illustration of the draconian effect of the subsidy regulations operating to the disadvantage of some farming clients.
What then are the options which are available to a farming business which finds itself in that position? The answer might be to purchase BPE on the open market. Although BPE will often be sold together with the land against which it is being claimed, that is not always the case.  
Also, tenant farmers who are coming out of their tenancies may often retain ownership of the BPE which was allocated to them. As a result BPE is available on the open market to purchase. Is it a sensible investment however?
UK Environment Secretary, Michael Gove, at the recent Oxford Farming Conference, reaffirmed the UK Government's commitment to maintaining current levels of support to the agricultural industry until 2022.  He also hinted at the possibility of existing levels of support continuing until 2024, at least in England and Wales.  
As a result, there does appear to be an active trade in entitlements south of the border.  There is also a trade in Scottish BPE at more or less the face value for Region 1 entitlements (remembering that there is a siphon in the value of the entitlement in the first year of payment where entitlements are sold without land).  
Scottish BPE will reach a flat rate payment per hectare in 2019 which some commentators have estimated will be approximately £160 per hectare (excluding greening) for Region 1 land.  
It does appear that businesses who find themselves without BPE and are ineligible under any of the three possible allocation routes described above, might well take the view that given that BPE would appear to be with us at least until 2022, it makes sense to buy it on the open market.