Scots Counsel is our cross-border referral service that we offer to law firms that need to instruct and work alongside Scots law qualified lawyers on transactions or cases.
The synergy we can create when working with leading English and international law firms means that together we can address the legal challenges facing clients in an ever-changing market.  We are, in short, Scots Counsel of choice.
Approach
Our Scots Counsel team is committed to building strong and collaborative working relationships with other law firms in need of Scots law expertise.  Our success in supporting English and international law firms on cross-border matters relies not only on our outstanding legal pedigree, but also on our availability, ability to understand complex issues and our track record in delivering quick, well-considered, concise and cost-effective advice.
Our aim
To allow our referral partner to provide a seamless multi-jurisdictional service to their client, demonstrating added value and cost-effectiveness.

To allow our referral partner to maintain the principal client contact.

To provide our referral partner with the same high quality advice and round-the-clock support from the Shepherd and Wedderburn team as they would expect from their own lawyers.

To work with our referral partner to price a deal competitively.
Please do get in touch for an informal chat if you are working on a project which requires specialist Scots law input.
---
Click on icon to navigate to Scots Counsel expertise
"They remain hungry to develop the market and that makes them
refreshing and exciting to work with."
– Chambers and Partners
---
We have the tools to help you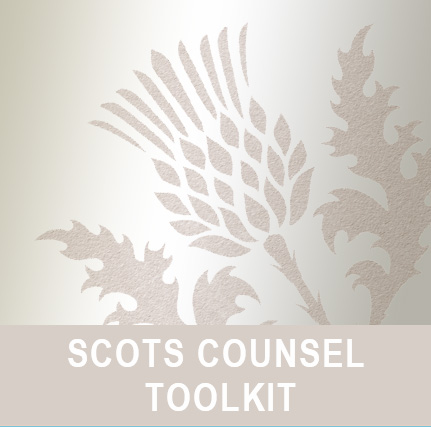 The Scots Counsel Toolkit is a knowledge-bank that we are building for lawyers south of the Border and beyond who need assistance with Scots law matters.
Each month our team of experienced cross-border lawyers will bring you short bulletins, articles and alerts designed to highlight Scottish legal developments relevant to law firms working on deals with a Scottish element, which we hope will be of relevance and value to law firms south of the Border who may be undertaking work with a Scottish dimension.
---
Seek us out
Barcelona, Global ABS (6-8 June 2017) 
Our Securitisation team will be attending this event. For more information, contact Fiona Buchanan
Why not meet up with us over a coffee or a glass of wine.  We look forward to seeing you there.